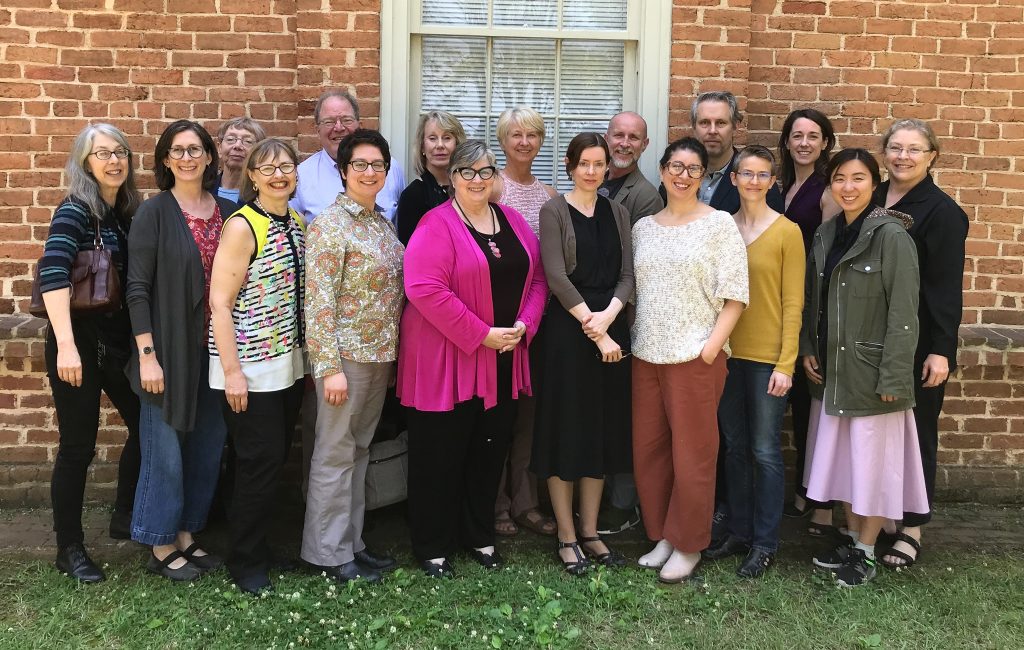 Melanie Aceto is a modern dancer, choreographer and educator. Her creative interests are in interdisciplinary solo and large group works. Melanie's choreography has been performed nationally and internationally in Toronto, Guatemala, Germany, and Jacob's Pillow Dance Festival; in New York City at The Kitchen, the Studio Museum in Harlem, Ailey Citigroup Theater, and John Ryan Theater, among others; and, in Buffalo at venues including the Albright-Knox Art Gallery and the Burchfield Penney Arts Center. Melanie's research interests include investigating models for teaching dance composition and modern technique and creating resources for both. Her research has been published in the Journal of Dance Education and has been presented at National Dance Education Organization conferences and the joint Society for Dance History Scholars/Congress on Research in Dance conferences. Current research projects include Choreographic Lineage, a web-based resource presenting the lineage of dance artists (www.choreographiclineage.buffalo.edu). Melanie earned her Master of Fine Arts degree in dance from New York University's Tisch School of the Arts and is currently an Associate Professor at the University at Buffalo teaching all levels of modern technique, improvisation and choreography. www.melanieaceto.com
Meg Brooker, Assistant Professor, Middle Tennessee State University, stages and performs Isadora Duncan repertory and new choreography in the United States, Europe, and Russia. Meg has presented scholarship for Dance Studies Association, Society of Dance History Scholars, Congress on Research in Dance, National Dance Education Organization, and Women in Dance Leadership. Meg is a founder of the Isadora Duncan International Symposium and former Lori Belilove & Company dancer. In 2016, she received an NEH Preservation Assistance grant for her work with Noyes School of Rhythm Archive and her current scholarship frames Noyes Rhythm as an early 20th century somatic practice. http://www.isadoraduncanarchive.org/
Harmony Bench is Associate Professor in the Department of Dance at The Ohio State University and co-editor of The International Journal of Screendance with Simon Ellis. Her writing has appeared in the Oxford Handbook of Dance and the Popular Screen, Choreographies of 21st Century War, and Dance on Its Own Terms, as well as Theatre Journal, The International Journal of Performance Arts and Digital Media, and Performance Matters, among others. Current projects include an open-access book in contract with University of Minnesota Press, Dance as Common: Movement as Belonging in Digital Cultures, as well as the digital humanities projects Mapping Touring, which focuses on the performance engagements of early 20th century dance companies, and Dance in Transit, a collaboration with Kate Elswit that considers transportation infrastructure and support networks in Katherine Dunham's dance touring of the 1950s. Both of these digital works in progress can be found at http://movementonthemove.osu.edu/. She and Elswit recently received a three-year Arts and Humanities Research Council grant to continue their data analysis research on Dunham's touring, travel, and support networks. https://harmonybench.wordpress.com
Carlson Coogler is a doctoral student in Educational Research with a specialization in Qualitative Methodologies at The University of Alabama. She is interested in interdisciplinary and artful approaches to learning; embodied, new materialist and more-than-human theories; and exploring methodologies that entangle theory and practice. A National Science Foundation CADRE Fellow from 2018-2019, she is especially interested in researching environmental/ecological ethics, practices and literacies. She is a graduate of Samford University, where she earned an MSE in English Language Arts and a University Fellows Honors BA in English with a minor in biology. Previously, Carlson taught secondary English, biology, and chemistry, and has worked in higher ed administration and admissions.
Patrick Corbin is a performer, maker, and educator whose experience spans a lifetime and includes studying diverse dance forms and histories. In 1989, after being a member of the Joffrey Ballet for four years, Patrick joined the Paul Taylor Dance Company where he became one of its most celebrated members and danced there until 2005. Patrick was featured in five PBS Great Performances between 1988 and 2004 and the 1998 Academy Award-nominated documentary Dancemaker. In 2001, Patrick was the recipient of the New York Performance Award (Bessie) for Sustained Achievement with The Paul Taylor Dance Company. Patrick founded his company CorbinDances in 2003 and stages his work as well as the work of Paul Taylor on companies throughout the United States. In 2015, Patrick received an MFA in Dance from NYU Tisch School of the Arts and later that year joined the faculty of USC Glorya Kaufman School of Dance as Assistant Professor of Contemporary Dance. https://kaufman.usc.edu/faculty/patrick-corbin
Alison D'Amato is a researcher, choreographer, and performer based in Los Angeles. She is currently Assistant Professor of Practice at USC's Kaufman School of Dance, primarily teaching dance history and theory. In 2015, she graduated from UCLA with a PhD in Culture and Performance, completing a dissertation on contemporary choreographic scores (Mobilizing the Score: Generative Choreographic Structures, 1960-Present). She also holds an MA in Dance Theater Practice from Trinity Laban (UK) and a BA in Philosophy from Haverford College. Her academic and creative practices have long been intertwined and both tend to focus on choreographic scores. In particular, she investigates generative and indeterminate notation in order to investigate relationships between choreographic authority, inscription, agency and archival. Her writing on performance can be found in Choreographic Practices, X-TRA Contemporary Art Quarterly, and Dance Research Journal. Her dances and scores have been presented in Los Angeles at Anatomy Riot, Pieter PASD, The Hammer Museum, and HomeLA; in New York at Movement Research, the Tank, AUNTS, Waxworks, Dixon Place, and BAX/Brooklyn Arts Exchange; as well as in Philadelphia, the UK, and Poland. https://alisondamatodance.com
Shana Habel, MA, is a K-12 Arts Specialist for the Los Angeles Unified School District, where she helped initiate an elementary dance program in 1999. In her life before elementary, Shana taught secondary dance grades 7-12 and Creative Dance for Children at Loyola Marymount University. She is a past-president of the California Dance Education Association and served as a member of the National Coalition for Core Arts Standards writing team in dance. She is active in dance and arts advocacy in California. Shana received a BA in Dance from BYU and an MA in Dance History from the University of Utah.
Sybil Huskey's career in dance spans more than four decades, during which time she has been guest artist and permanent faculty at various universities and has served in administrative positions in academia and professional organizations. For the past decade, her work has focused on collaborative choreographic research intersecting with dance technology. She was recently presented with the Lifetime Achievement Award by the National Dance Education Organization. Sybil has received Fulbright Senior Scholar awards for work in Finland and New Zealand and was the UNC Charlotte Director at London's Kingston University where she co-wrote the first dance curriculum. Sybil has been the Co-Principal Investigator on multiple National Science Foundation grants for interdisciplinary research and production and is currently the Principal Investigator on a NSF STTR phase one small business award. She is co-founder of the Video Collaboratory, LLC, a startup whose software platform enables detailed video discussion and annotation. www.videocollaboratory.com
Peter Jaszi is a Professor Emeritus at American University Law School. He writes and lectures about copyright law in historical and cultural contexts and was a founder of the school's Glushko-Samuelson Intellectual Property Law Clinic as well as its Program on Intellectual Property and Information Justice. Having served as a Trustee of the Copyright Society of the U.S.A., Professor Jaszi remains a member of its journal's editorial board. During 1993, Professor Jaszi served as a member of the Librarian of Congress's Committee on Copyright Registration and Deposit, and from 1994 to 2000, he was a principal organizer of the Digital Future Coalition. Since 2005, he has been working with Prof. Patricia Aufderheide to help creative communities develop fair use guidance documents that reflect their particular problems and practices. A new edition of their book, Reclaiming Copyright, was published in 2018 by the University of Chicago Press. In 2007, Professor Jaszi received the American Library Association's L. Ray Patterson Copyright Award. https://www.wcl.american.edu/community/faculty/profile/jaszi/bio
Eugenia Kim is Lecturer at the Hong Kong Academy of Performing arts and Co-founder of Leonardo21 Creative Consulting Ltd. She holds a PhD from the School of Creative Media at City University of Hong Kong. Her current research is in the creation of dances about illness for virtual reality environments, and her company provides digital humanities consulting services for academic institutions in Hong Kong. Prior to starting Leonardo21, Eugenia was a digital archivist/librarian in Hong Kong and the United States. Previous positions include Metadata/User Testing Specialist and Project Coordinator for the Doris Duke Charitable Foundation grant project at The New York Public Library for the Performing Arts, Visiting Data Curation Specialist at the Purdue University Libraries, and serving on the Board of Trustees for the Dance Heritage Coalition. Eugenia is also an active choreographer whose work has been shown in Hong Kong, Boston, and New York City. Her research publications span across the use of digital humanities technology for dance preservation, collective memory, and access, to providing frameworks for artists to preserve their own work. Eugenia received her BS in Electronic Media, Arts, and Communications from Rensselaer Polytechnic Institute and her MS in Information Science from the University at Albany, SUNY. www.leonardo21.com
Hannah Kosstrin is a dance historian whose work engages dance, Jewish, and gender studies, modes of movement analysis, and implications for historical and digital embodiments. At The Ohio State University, she is Associate Professor in the Department of Dance, affiliate faculty with the Melton Center for Jewish Studies and Center for Slavic and East European Studies, and participant in digital humanities faculty forums. Her research and teaching areas of expertise include dance histories of the U.S., Israel and the Jewish diaspora, Latin America, Europe, South Asia, and the African diaspora; gender and queer theory; nationalism and diaspora studies; Laban movement notation and analysis; and, digital humanities. She is the author of Honest Bodies: Revolutionary Modernism in the Dances of Anna Sokolow (Oxford University Press, 2017). She is project director for the dance notation iPad app KineScribe that is supported by a 2011 National Endowment for the Humanities Office of Digital Humanities Level I Start-Up Grant, and she is on The Ohio State University research team for LabanLens, a HoloLens application for Labanbased dance scoring. https://dance.osu.edu/labanlens
Sali Ann Kriegsman has served as artistic adviser to the Digital Dance Library planning project, which was funded by the Andrew W. Mellon Foundation; president of the Dance Heritage Coalition; executive director of Jacob's Pillow Dance Festival; director of the National Endowment for the Arts Dance Program; dance consultant to the Smithsonian Institution; and, executive editor at The American Film Institute. Her book, Modern Dance in America: The Bennington Years, a foundational history of the early years of modern dance, was hailed by the New York Times as "a vivid and human picture of a crucial chapter in American culture." Her articles, criticism and essays have been published in a variety of periodicals and reference sources. Her bio is included in Marquis Who's Who in America and Who's Who in American Women.
Anne Ladyem McDivitt is the Digital Humanities Librarian for the University of Alabama Libraries. She assists faculty and graduate students in creating digital projects at the University, as well as facilitating digital pedagogy in the form of tools and workshops. Her personal research is on the history of the video game industry in the 1970s and 1980s, with a particular interest in gender. She received her PhD in History with a minor in Digital History from George Mason University and her MA in Public History from the University of Central Florida. In her free time, she plays video games and co-hosts a podcast about video games, anime, and manga. You can follow her on Twitter @anneladyem or on her blog at anneladyem.com.
Susan McGreevy-Nichols is the Executive Director of the National Dance Education Organization, a non-profit organization dedicated to the advancement and promotion of high-quality education in the art of dance. Her service to the field of arts education includes sitting on a number of national committees and task forces, including serving on the leadership team for NCCAS. She has contributed to the development of the National Core Standards in Arts Education, the NAEP Assessments, and the Interstate New Teacher Assessment and Support Consortium (INTASC) Model Standards for Beginning Teacher Licensing, Assessment and Development. She has also developed numerous online courses for NDEO's OPDI. As a teacher at Roger Williams Middle School in Providence, Rhode Island, from 1974-2002, Susan founded and developed that institution's nationally renowned middle school dance program. She is the developer of a cutting-edge reading comprehension strategy that uses text as inspiration for original choreography created by children. This literacy-based methodology combines the creative process with reading instruction. She is co-author of five books: Building Dances (1995) (2005), Building More Dances (2001), Experiencing Dance (2004) (2014), Dance about Anything (2006) and Dance Forms and Styles (2010). She has served on the editorial board of the Journal of Dance Education (JODE), is a former columnist for Dance Teacher Magazine, and has been an invited contributor to the Arts Education Policy Review.
Laura Pettibone Wright is pursuing in-depth research into the career of choreographer Erick Hawkins, publishing findings, and presenting at national conferences. She has restaged Hawkins' works and excerpts for professional companies and students of all ages for formal and informal presentation. A soloist with Hawkins' company, she toured nationally and internationally and was acclaimed for her musicality and poetic elegance. Her Hawkins-based technique classes reflect her on-going examination of Hawkins' principles of movement, aesthetic concepts and philosophic foundations. Ms. Pettibone Wright wrote dance curriculum based on National Standards in Dance Education for the Virginia Beach City Public Schools. She received her MA in Dance Education from Columbia University's Teachers College, where she was awarded the Artist/Scholar Fellowship, and a BA in Music and Dance at Beloit College. www.laurapettibonewright.com
Rebecca Salzer (Project Director) is Associate Professor of Dance and directs the Collaborative Arts Research Initiative at the University of Alabama. Rebecca is an intermedia dance artist and educator. Her work for the stage has been seen in Chicago, Los Angeles, San Diego, and San Francisco, where she directed Rebecca Salzer Dance Theater for a decade. Her award-winning films and videos have been programmed in national and international venues and on public affiliate television stations KQED, KPBS, and WTTW. Salzer is a Jacob K. Javits Fellow. She holds a B.A. in Humanities from Yale University and an M.F.A. in Dance Theatre from the University of California, San Diego. www.rebeccasalzer.com
E. Gaynell Sherrod earned an M.Ed in dance education and an Ed.D in dance pedagogy from Temple University after 15 years of performing, touring, and teaching with groups including PHILADANCO and Urban Bush Women, Inc. Dr. Sherrod is a Fulbright-Hayes scholar in dance historical research. Her artistic and theoretical works are steeped in African Diaspora dance and music performance. As Director for Dance Education for New York City Public Schools (2000-2003), she founded and directed the New York City Department of Education Dance Institute: Based on Katherine Dunham Model, for which she was awarded a DANA Foundation Grant. Dr. Sherrod is a lecturer and consultant in dance history and performance studies for school systems PreK-12 and higher education. From 2014-2016, she served as the Chair of the Department of Dance and Choreography at Virginia Commonwealth University (VCU), where she is currently a tenured associate professor. She is currently writing a book, The Dance Griots: Reading the Invisible Script – Mellen Press – August, 2018. https://arts.vcu.edu/dance/people/faculty-staff/gaynell-sherrod/
Libby Smigel AB MFA PhD, Dance Archivist, Library of Congress, was project director of Dance Heritage Coalition's copyright and fair use project in 2007-2009. Confirmed as Executive Director of DHC in November 2009, she oversaw the pilot phase of DHC's preservation-quality videotape digitization project that also streamed content to verified educational IP addresses. She also worked with dance companies to develop sustainable archival solutions for their in-house collections, and she also secured IMLS funding to expand the DHC intern program into a robust multi-year fellowship program for early-career archivists, among other initiatives. Following completion of her doctorate from the University of Toronto in 1992, Smigel had a 15-year career as a faculty member, teaching undergrad and graduate courses in drama/theatre and dance history at an array of higher education institutions, such as American University, George Washington University, the University of Maryland, Hobart and William Smith Colleges, York University, and Rochester Institute of Technology. An active dance researcher and editor, she has contributed entries for the Dictionary of American Biography, was consultant on antiquity entries for the International Encyclopedia of Dance (Oxford UP), served on the first board of directors of the Society of Dance History Scholars (now Dance Studies Association), and currently serves as an Associate Editor of the Journal of American Culture.
Imogen Smith, Director of Archiving and Preservation at Dance/USA, has more than a decade of experience as a specialist in archiving dance, and is a passionate believer that preserving artistic legacies strengthens and supports the art form. As Project Manager for Dance Heritage Coalition (DHC), she spent five years working with dance companies and independent artists around the country to assess, organize, and digitize their collections, and leading projects to process historical dance archives and create new online dance history and archiving resources. As Acting Executive Director of Dance Heritage Coalition, she oversaw the integration of DHC's archiving and preservation programs into Dance/USA. Previously, she worked on oral history projects and video archives in the Dance Division of the New York Public Library for the Performing Arts and on visual arts collections at the Brooklyn Museum and the Morgan Library & Museum. Based in New York City, she is the author of two books on film history, writes for a variety of cinema and culture publications, and is a frequent speaker on classic film. https://www.danceusa.org/imogen-smith-director-archiving-and-preservation
Lynne Weber, Executive Director of the Dance Notation Bureau, is a Certified Professional Notator and Certified Teacher of Labanotation; a Certified Movement Analyst; and a notator of works, including Joffrey, Massine, Posin, Wagoner, Sokolow, and full-evening length Sleeping Beauty. She received her BFA in Dance from the University of Wisconsin, Milwaukee, and danced professionally with the Milwaukee Ballet Company as well as other ballet, modern, opera, and operetta companies. She has taught Dance and Notation, choreographed for the Public Theater, and served on the former Board of Directors for Congress on Research in Dance (CORD) and the American Dance Guild. In addition, she also holds an M.B.A. from the Wharton School and an M.S.E. in Computer Science from the University of Pennsylvania. She has managed consulting projects at what is now KPMG, was a Vice President at Goldman Sachs, and was a Professor in computer systems at Touro College. http://dancenotation.org/
Skip back to main navigation